Access Platforms
Leading Access Platform Providers
About our platforms
Founded in 1993, Semmco is an industry leading access equipment manufacturer delivering innovative solutions worldwide for commercial and business aviation, aircraft engine manufacture and maintenance, helicopters, rail and vehicle access. We pride ourselves in our ability to provide bespoke and standard access platforms for different industry requirements and customer applications.
These extensive solutions enable engineers to work at height safely while carrying out essential maintenance tasks. We also provide product support and training options to further complement our range, ensuring end-to-end solutions for our customers.
Close Filter
Use the fields below to filter the Semmco range of products
You are currently filtering to show products RESET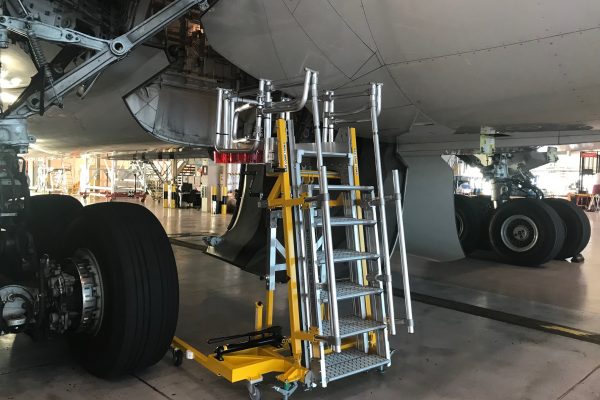 The Universal Landing Gear & Wheel Bay Access Platform is a variable height platform with a height range from 1.7m to 3m  via a winch mechanism with manual winding handle.  The working platform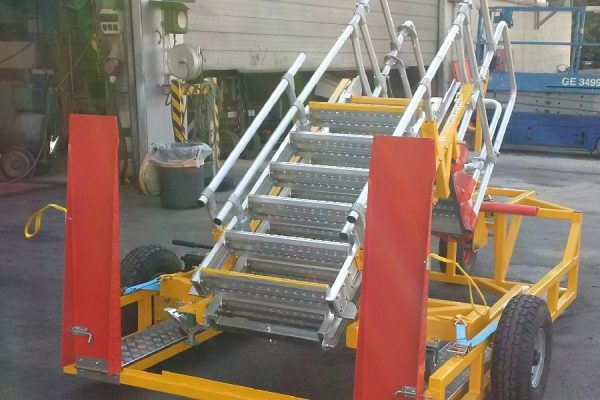 This trailer is used to transport the Universal Landing Gear & Wheel Bay Access Platform (812.012.42) to service aircraft while on the line.  The platform collapses so that it can be wheeled onto
We offer industrial access platforms for a range of industries including commercial and business aviation, aircraft engine manufacture and maintenance, helicopters, rail, and vehicle access. 
We provide:
Aircraft access platforms
Regular aircraft maintenance conducted safely and effectively  is essential to maintaining aircraft in an industry that is time pressured and financially driven. Semmco's aircraft access platforms are designed to meet specific client and project requirements. We work closely with our customers to ensure we manufacture product they need that can include equipment for safe access, maintenance or repair tasks. 
Our aircraft access platforms ensure engineers can get to exactly where they need, often alleviating issues encountered with previous methods, ensuring tasks can be carried out safely without increased risk of injury. 
In our range you will find platforms designed for a number of regular aircraft maintenance activities and access areas including Fixed Height Main Landing Gear Maintenance Platforms, Cargo Bay Access Platforms, Under Cowl Access Platforms and more.
View our aircraft access platforms here. 
Aircraft Engine manufacture and maintenance platforms
Manufacturing and carrying out maintenance on off-wing or on-wing aircraft engines requires access platforms so that the engineers can safely reach the different areas of the engine. Our range of access platforms includes fixed and variable height steps and platforms to access the engines in horizontal and vertical build, engine assembly, maintenance and inspection.
View our aircraft engine access solutions here.
Helicopter access platforms
Helicopters require regular maintenance and Semmco's range of helicopter access solutions  offers products that have been designed for this industry's specific requirements. Our access equipment, that includes docking systems and rotor access platforms, helps engineers carry out essential repairs and servicing safely and efficiently. 
In our product catalogue, you will find fixed and variable height access platforms for working on the helicopter's rotor and tail, in addition to complete docking systems and more.
View our helicopter access platforms here 
Train access platforms
Semmco's range of train access platforms includes solutions for rolling stock and depot maintenance, keeping engineers safe while carrying out essential tasks in an industry challenged with time pressures and restricted height maintenance depots. We understand there can be many different requirements that vary across locations and ensure we provide solutions for all. 
Our train access platforms include lightweight and robust aluminium models that can be disassembled and moved around easily as and when required and which are suitable for internal or external use within the train depot.
We also offer train side door access platforms with cantilever extension, roof and secondary door access platforms and more, to help facilitate quick and effective train maintenance. 
View our train access platforms here: Link to page
Vehicle access platforms
Vehicles such as buses and vans often require roof or side access to carry out maintenance tasks. Ladders are frequently used for this purpose and this method can be unstable, resulting in accidents that could have been avoided. 
Semmco is committed to providing sturdy equipment to keep people safe, offering a range of fixed and mobile roof access platforms, including variable height options to suit all needs .
We offer Vehicle Roof Access Platforms, EcoLift Access Platforms, and Peco Variable Height Access Platforms to provide a practical, cost-effective and safe alternative to ladders, podiums, and platform steps.
View our vehicle access platforms here. 
Why Choose Semmco?
Working across a variety of different industries with varying access requirements we are committed to ensuring our products always enable safe, productive working. 
Everything we do at Semmco is underpinned by the following core values:
Leading – With passion, vision and dedication we continually strive to be the best in everything we do and lead with confidence and might.

Excellence – The quality of our work, including attention to detail, accuracy, reliability and the determination to exceed expectations, underpins the excellent products we produce

Integrity – We care about our people, our customers and the company.  Our integrity is built on solid family values – being trustworthy, honest and friendly.  While hardworking, we value a work/life balance and believe in sharing prosperity.

Professionalism – We are professional, transparent and efficient.  All our leaders are experts, skilled in their role and collectively they enhance the professionalism of the organisation.

Flair – From fresh and clever ideas we develop products of the future that are elegant, easily operated and competitively priced.
Our Service Packages
At Semmco, we understand that the initial product purchase is only one part of an ongoing process. It's also essential you are able to get the most out of the product once it arrives at your facility. For this reason, we offer various product support and training options to complement our range.
The training and product support options we offer include:
refresher training for new members of staff

scheduled product inspection and servicing from a Semmco engineer

training courses designed to enable your own engineers to carry out regular inspections to a high standard



In addition to our training and servicing packages, our products and spare parts are also supplied with a standard 12-month warranty. Taking out a service package at the time of your purchase will automatically extend your warranty to 24 months. We also offer an add-on installation service for all of our access platforms and other GSE products and can dispose of your old equipment if required.