Aircraft landing gear
With offices in the UK, USA and Middle East we are ideally placed to provide aircraft landing gear products globally. We understand the differences worldwide in terms of safety regulations and processes and our extensive product range reflects this. Providing products and services to the rail, helicopter, and aviation industries, our products ensure critical areas can get accessed safely, reducing the chance of incidents occurring.
Close Filter
Use the fields below to filter the Semmco range of products
You are currently filtering to show products RESET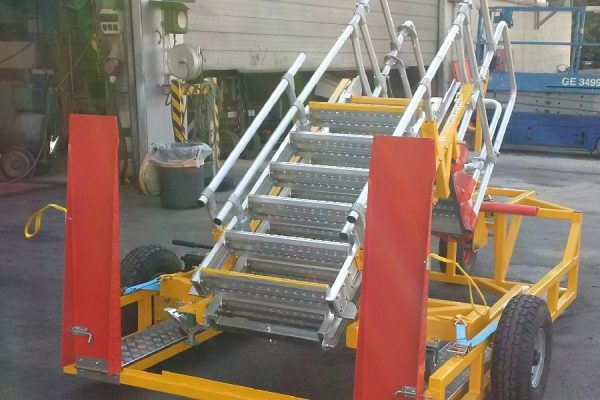 This trailer is used to transport the Universal Landing Gear & Wheel Bay Access Platform (812.012.42) to service aircraft while on the line.  The platform collapses so that it can be wheeled onto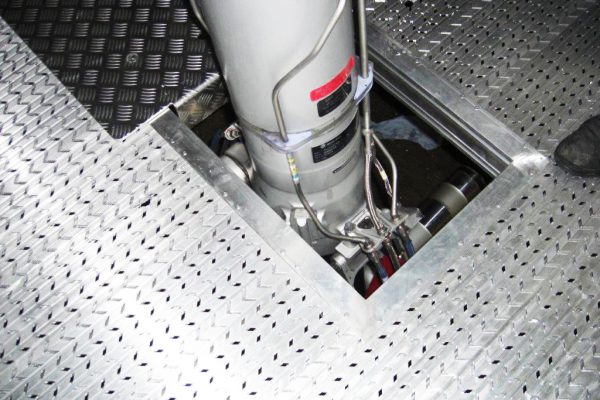 The Main Landing Gear Maintenance Platform - Fixed Height is designed to enable access to the wheel bay of a range of aircraft to service the wheel struts. The platform is designed to fit around the wheel
About our Aircraft landing gear
Our Universal Landing Gear and Wheel Bay Access Platform was created to be able to access both the aircraft landing gear and wheel bay doors. With a height range of 1.7m – 3m, a winch mechanism enables the platform height to be easily changed to fit in with the inspection or maintenance task being carried out. When access is required, our safety gate can be opened. In addition, this platform has railings that are hinged at their mid-point, to enable them to be folded to facilitate access to all required areas. As is standard across the Semmco product range, the platform is aluminium, ensuring it is lightweight and easy to operate, with non-slip stairs and platform tread making the platform as safe as possible. A sophisticated hydraulic system also enables the platform to be totally collapsed if necessary.
Our towable Fixed Height Main Landing Gear Access Platform is 1.3m and can be provided with additional 'hop up' steps. These additional steps can be moved around the platform and fixed in place by location holes, determined by the customer. This platform can also be moved into position by one person but is robust enough for a two men working load.
Our Aircraft landing gear applications
Wheel bay access is critical and we ensure the engineers have ideal access, with our platforms carefully designed to fit around the wheel strut. Wheel struts often need to be serviced and so our platforms enable this job to be carried out safely and efficiently. The platform is designed so that the handrails can be removed so that parts can be removed if necessary.
When operating in these areas, space is critical, and there can be a lot of different things going on at the same time. It is important to not only do the job in hand properly but to also do it as efficiently as possible. Our landing gear platforms ensure that engineers can work easily, even in restricted areas.
Why Choose Semmco?
We continually ensure that we are developing and delivering innovative solutions that ultimately keep people safe. Our goal always is to be the best of the best and Semmco is renowned as the world's most respected maintenance equipment designer. Intelligent engineering is at the heart of everything we do. We ensure our products are products of the future, created with flair, easy to operate and priced competitively. Our Managing Director Stuart McOnie founded the business in 1993 bringing with him a wealth of engineering expertise that has only increased since this time.
In addition to designing and delivering a product, our Product Support team ensures customers receive assistance from Semmco well beyond the initial delivery. Onsite inspections can be carried out and, once complete, an inspection report and certificate is issued that details their findings and states if any further works are required. Product training is also offered to ensure our customers understand how to safely operate the equipment they are using and to ensure they get the most out of the equipment we have provided. We also run courses on both inspection and training to skill your workforce and enable them to be able to carry out regular inspections of the products too. Irrespective of the specific customer requirement, we ensure we can offer a service that will keep their equipment working as efficiently as possible.
Semmco also manufactures a range of ground support equipment that is often used in conjunction with the landing gear platforms. This equipment includes wheel and brake changers, tyre/tire inflators and checkers, nitrogen trolleys/carts and nitrogen walk round kits.