Nose docks
Semmco is renowned the world over for developing innovative docking solutions for aircraft and helicopters and has designed and manufactured extensive docking solutions including nose docking solutions for many years.
Close Filter
Use the fields below to filter the Semmco range of products
You are currently filtering to show products RESET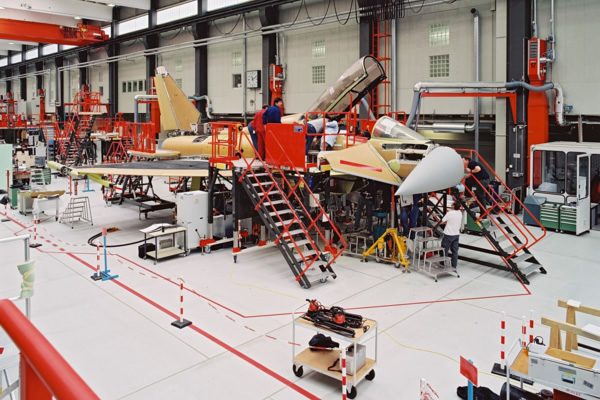 This Typhoon Maintenance Access Platform provides easy access to cockpit and installation points of both single seater and two seater aircraft.The height of the platform is easily adjusted using the hydraulic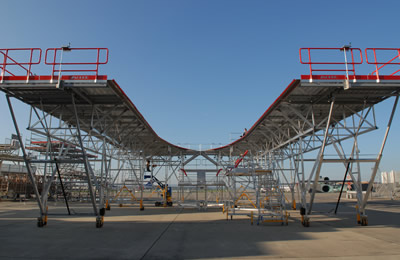 Nose docking solutions, fixed or mobile, manufactured from high grade lightweight aluminium with wide and narrow working platforms, fixed or sliding finger nose profiles and multi aircraft type functionality.
About our Nose Docks 
Nose docking solutions can be fixed or mobile and, as the name says, provide access to the nose of an aircraft. Our docking solutions are manufactured from lightweight aluminium and have either wide or narrow platform areas depending on the requirement. The platforms can also be fitted with sliding fingers so that they fit the profile of the nose of the aircraft and afford an extended working area. These bespoke designs are developed in consultation with the customer to ensure the exact requirements are met.
Nose Docking Solutions
https://semmco.com/products/nose-to-tail-docking-system/
Nose Docking Solutions are designed to suit the customer's requirements and so are usually bespoke products. However, all our platforms and docking solutions are manufactured from lightweight aluminium and have castors and stability jacks to enable the docking systems to be moved and locked into position.
Typhoon Maintenance Access Platform
https://semmco.com/products/typhoon-maintenance-access-platform/
This platform is not specifically a nose docking system but it provides easy access to the cockpit and installation points of a single and twin seater aircraft. The height of this platform can be adjusted easily using the hydraulic cylinder and hand pump.
Our Nose Dock applications
Our nose docking solutions are suitable for use with commercial and military aircraft. They are usually a permanent fixture and used to carry out extensive work to an aircraft and enable the engineers to access the nose of the aircraft easily and safely. The platforms can be wide or narrow depending on the working requirement and some of the docking solutions can be fitted with extending fingers that follow the contours of the aircraft.
Why Choose Semmco?
Semmco is vastly experienced in designing and building docking solutions to suit each customer's requirements. Our team of design engineers have worked with industry engineers for many years developing innovative products that not only solve access problems for our customers but also create quality, robust products – products designed by engineers for engineers.
https://semmco.com/about/semmcos-range-of-services-tailored-to-your-industry/
Docking solutions are extensive products and once manufactured our service engineers are available to install and commission the equipment. Our service engineers travel the world to install our products so wherever you are located, we can provide a docking solution for you. https://semmco.com/product-support/
Our docking solutions are often used in conjunction with our other products such as our access platforms, ground support equipment and hop up steps. 
FAQs
How do I enquire about a nose docking solution?
Please contact our sales team by either phoning our office – +44 (0) 1483 757200 or enquiring via this link. We can then discuss your requirements and arrange for a meeting at your site so that we can review the situation to enable us to make suitable recommendations.
How long does a nose docking solution take to design and manufacture?
It does depend on the requirement but we usually allow up to 22 weeks from initial enquiry to design, manufacture and install a bespoke nose docking solution.
Are your nose docking solutions easy to move or are they fixed in position?
This does depend on the requirement but we usually ensure that all our docking solutions can be moved easily and they are manufactured from aluminium so are relatively lightweight compared to other structures manufactured from steel.